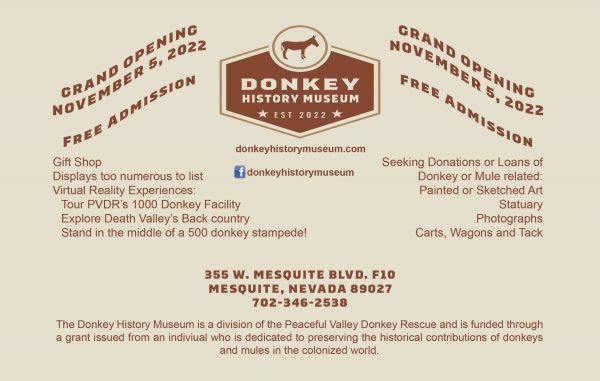 Thanks to a generous grant, Peaceful Valley is in development in the opening of a Donkey History Museum dedicated to chronicling the many contributions of donkeys in the Western Hemisphere. Mark and Amy Meyers are contributing their substantial donkey memorabilia collection to the museum and we are looking for others who may have items that they would like to donate.
If you have items of interest, please send photos to museum@pvdr.org. Everyone who contributes items will be recognized on the benefactors plaque in the museum. Items we are looking for include:
Vintage toys
Figurines
Paintings
Vintage Photographs


The museum will be located in Mesquite, Nevada and we hope to have it up and running by the Fall of 2022.