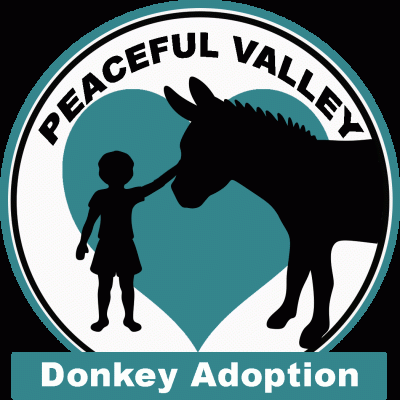 If you have any questions regarding our Donkey Adoption Program, please contact our main office at adopt@pvdr.org.
Donkeys make amazing pets. They are smart, loyal and extremely affectionate.
Peaceful Valley has many great donkeys available for adoption throughout the United States. In order for a donkey to be considered "adoptable" it must meet certain criteria:
Donkey must be people friendly
Donkey must accept a halter
Walk on lead
Donkey must stand for trimming
There are certain rules and guidelines required by Peaceful Valley:
Only geldings and jennets are available for adoption
Adopted donkeys cannot be bred
Adequate shelter and fencing must be provided (requirement varies by region)
Donkeys must be kept on adopter's property (no boarding facilities)
All PVDR Donkeys have had all of their vaccines
All PVDR Donkeys come with guaranteed health. If the donkeys gets sick in the first 90 days, we will replace it.
Click here for the complete adoption policy
To begin the process, simply fill out our Online Adoption Form (please note, you will be directed offsite to complete the form).
Adoption fees $350 for a single and $600 for a pair. On the rare occasion that we have miniatures or mammoths, those fees are based on other factors and are typically higher.
After you have been approved, click here to pay your adoption fee.
Once we have received the application, it will be reviewed by our Main Office and you will be contacted. The application is then forwarded to the Satellite Adoption Center nearest you. If you have any questions regarding our donkey adoptions please contact us at adopt@pvdr.org or call 866-366-5731 Monday-Friday 9am-3pm.