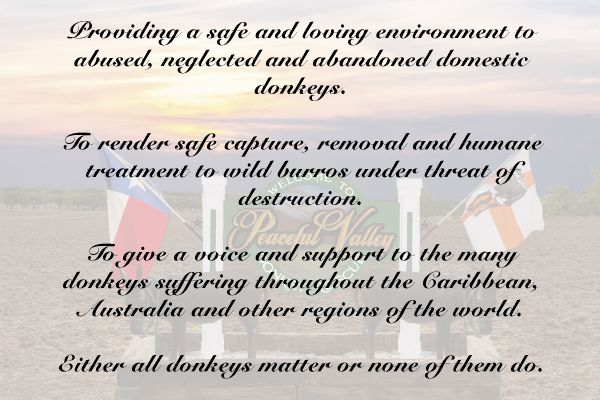 Peaceful Valley's Mission is to provide a safe and loving environment to all donkeys that have been abused, neglected or abandoned and wild burros under threat of destruction.
Peaceful Valley strives to provide solutions to the many problems that plague these wonderful creatures by providing ethical stewardship over the funds that are necessary to fulfill this goal.
Peaceful Valley, with its nationwide network of Ranch Facilities and Satellite Adoption Centers, is the country's leader in Rescue, Sanctuary, Adoption and Education.
Together, we can improve the Plight of the American Donkey.
Our Humble Beginning…
Mark and Amy Meyers started the Peaceful Valley Donkey Rescue as a backyard hobby over two decades ago. After purchasing their first donkey Izzy as a pet, the Meyers' began to notice other donkeys in their community that were in various stages of abuse and neglect. Not knowing exactly what to do, Amy began buying up these donkeys and Mark spent his evenings talking to the donkeys and fixing their various ailments. It was after the 25th donkey came into the Meyers' home that they decided to open an actual Rescue so that they would be able to find safe, loving homes for their donkeys.
This simple gesture of love has turned into the largest rescue of its kind in the world. The Meyers' still stay involved in the day to day operations of the Rescue but they also manage a large staff that ensure the well being of the over 3,000 donkeys under their direct care.
Under the Meyers' direction, Peaceful Valley has grown to the largest rescue of its kind with facilities all across the United States.
Mark Meyers has been seen on television programs around the world. He has also been a guest on several radio programs and authored several books. His public speaking engagements include business organizations, service clubs and classrooms ranging from the kindergarten to university levels. Mark brings his lively desert adventures, heart-warming rescue stories and living philosophy of compassion everywhere he goes.