Peaceful Valley Donkey Rescue has a large number of Special Needs donkeys. These donkeys, either through advanced age or medical condition, must remain at PVDR for the remainder of their lives. Please read their stories and choose a donkey in need.
For just 83 cents a day, you will be giving your donkey a lifetime of care.
For all recurring donations of $25 per month, we will mail you a picture of your sponsored donkey.
Click the subscribe button for PayPal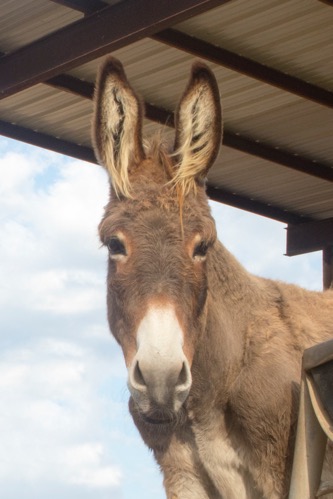 PVDR Rescue Case#: 22743621
Name: Speedy Age: 40 AVID#: 210-213-009
Speedy was found walking along a highway in East Texas. During the Texas drought of 2011, several thousand donkeys were abandoned by their owners. Many of those donkeys ended at PVDR.
"Speedy" was named because of his extraordinary slow pace. He never gets in a hurry for anything, not even his grain ration. The staff have to wait on him to get to the trough so that another donkey won't eat his portion.
Speedy is in pretty good shape for his age. He has limited sight in one eye and has worn his back teeth down to the gum line. He is fed a special pelleted ration that is mixed with water and made into an easily eaten mash.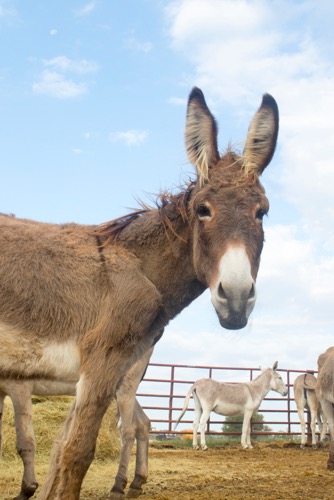 PVDR Rescue Case#: 25576814
Name: Agnes Age: 32 AVID#: 013-225-080
Agnes is a sweet old girl that was literally dumped off outside of Roswell, NM. She has been diagnosed with Sweeny Shoulder. This condition is caused by an injury to the suprascapular nerve.
The suprascapular nerve controls the shoulder muscle that brings the front leg forward. Without proper nerve function, the muscles along the shoulder blade cannot function correctly. The muscles degenerate, and the donkey is unable to move her leg properly.
Our Agnes has the condition in both front shoulders. It is hard to say what caused the damage, but it was clear that her owner didn't want to deal with it.
Agnes will live out her life with us in comfort and with love.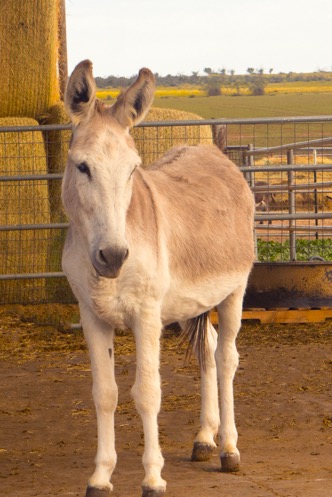 PVDR Rescue Case#: 12243711
Name: Mondo Age: 27 AVID#: 010-223-432
Mondo was originally rescued from an area just North of San Diego, CA. He was a former BLM wild burro and his adopters were having difficulty catching, restraining and trimming him.
He was taken to our original Action, CA facility, where PVDR was founded in December 2000. He was castrated, which is our policy for all jacks, and then he was put into our gentling program. While he bonded to Mark and Amy, he was very standoffish with other people and never found an adoptive home.
A few years ago, we found that Mondo's eyesight had failed him and he is completely blind. Because of his keen hearing, having, having gentle donkeys around him and being familiar with his surroundings, Mondo gets along quite nicely.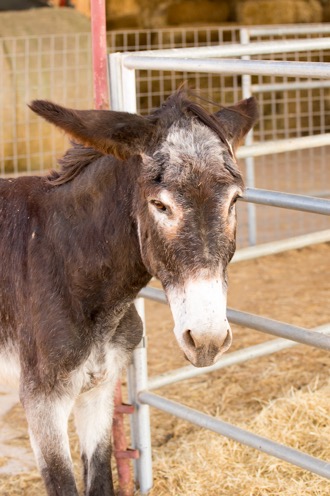 PVDR Rescue Case#: 21119809
Name: Patty Age: 29 AVID#: 022-122-465
Patty is a sweet older jennet that came from a horrific background. She was horribly malnourished and her teeth were in such bad shape, they prevented her from eating what little she was offered by her former owners.
Our dentist was able to extract a few teeth and "float" the rest, allowing her to eat normally again. She is very arthritic and is kept on a low dose anti-steroidal pain medicine.
Patty is very loving to people as well as other donkeys. She is especially close friends with Ethan.
We provide Patty with shavings in her pen because she spends a lot of time laying down because of her arthritis.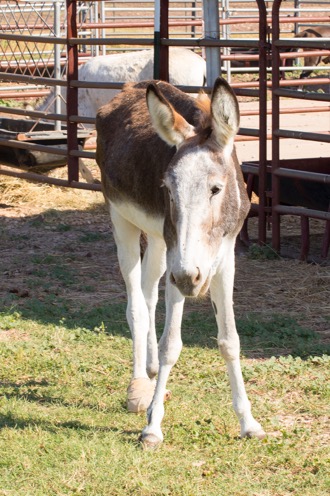 PVDR Rescue Case#: 24445677
Name: Ethan Age: 14 AVID#: 011-998-0671
Ethan is a gelding that was rescued from a severe neglect case in Washington. His hooves were horribly overgrown and he was barely able to stand.
Our expert farrier was able to restore three of his hooves to their normal state, but the fourth was un-fixable. Because of the way the hoof had grown out, the joint was irreparably damaged.
We keep a padded bandage on the leg as he tends to walk on the joint more than the disfigured hoof. Ethan is very mobile and socializes well with his pen mates. He is able to live a pain free life.
Ethan will require special attention for the rest of his life, but he is in good hands.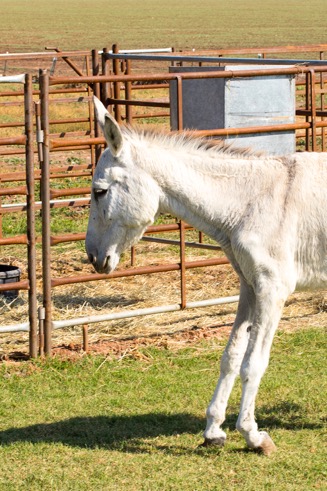 PVDR Rescue Case#: 37588901
Name: Jody Age: 20 AVID#: 030-887-091
Jody was found behind a convenience store in Oklahoma. It was a very rural area so donkeys were not all that uncommon. What made Jody's story so different is that was obvious she hadn't walked there.
Her hooves were so overgrown that she couldn't even stand up.
It took three of us to lift Jody into the back of the trailer for the ride back to Texas. She has had several restorative hoof trimmings, but some of the joint damage prevents her from walking normally.
We have made her comfortable and she seems to enjoy all of the company provided by her new found friends.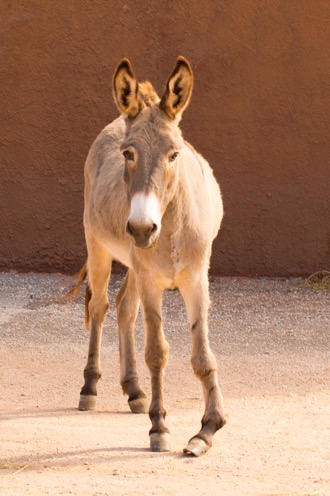 PVDR Rescue Case#: 268990324
Name: Spencer Age: 16 AVID#: 023-998-583
Spencer was a former wild burro captured near the Mexico border. He broke his leg at some point, but his will to live and the protection of his herd allowed him to not only survive, but to heal in a manner that allowed him to walk and keep up with his herd mates.
The break has fused and Spencer shows no sign of pain. He is able to socialize and is very mobile.
There is some deformity on the right side of his face. We of course do not know if this was caused at the same time as the leg injury or if it was a separate unrelated occurrence.
Spencer will live out the rest of his life in our Special Needs pen to ensure that he has access to the food, water and medical care that he needs.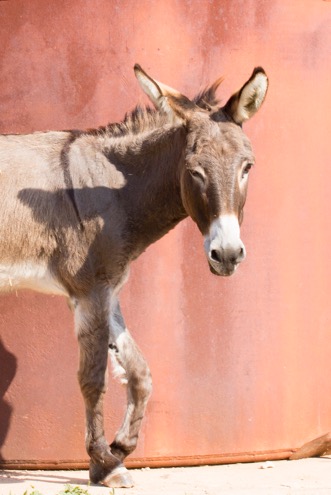 PVDR Rescue Case#: 27211298
Name: MIllicent Age: 35 AVID#: 121-998-001
Millicent is one of over 500 wild burros that PVDR has taken from the Bureau of Land Management. In 2004, Congress passed a law that forced BLM to sell any wild horse or burro that was over 10 years old.
As many people do not want these older animals, the chances of them going to slaughter were pretty high. As a result the majority of impacted donkeys came to Peaceful Valley.
Millicent has spent the last five years on one of our large sanctuaries. While receiving the same level of care as the donkeys on our ranch, the sanctuary donkeys get a sense of their lost freedom returned to them.
Millicent was recently moved to our Senior Pen so that we can more closely monitor her.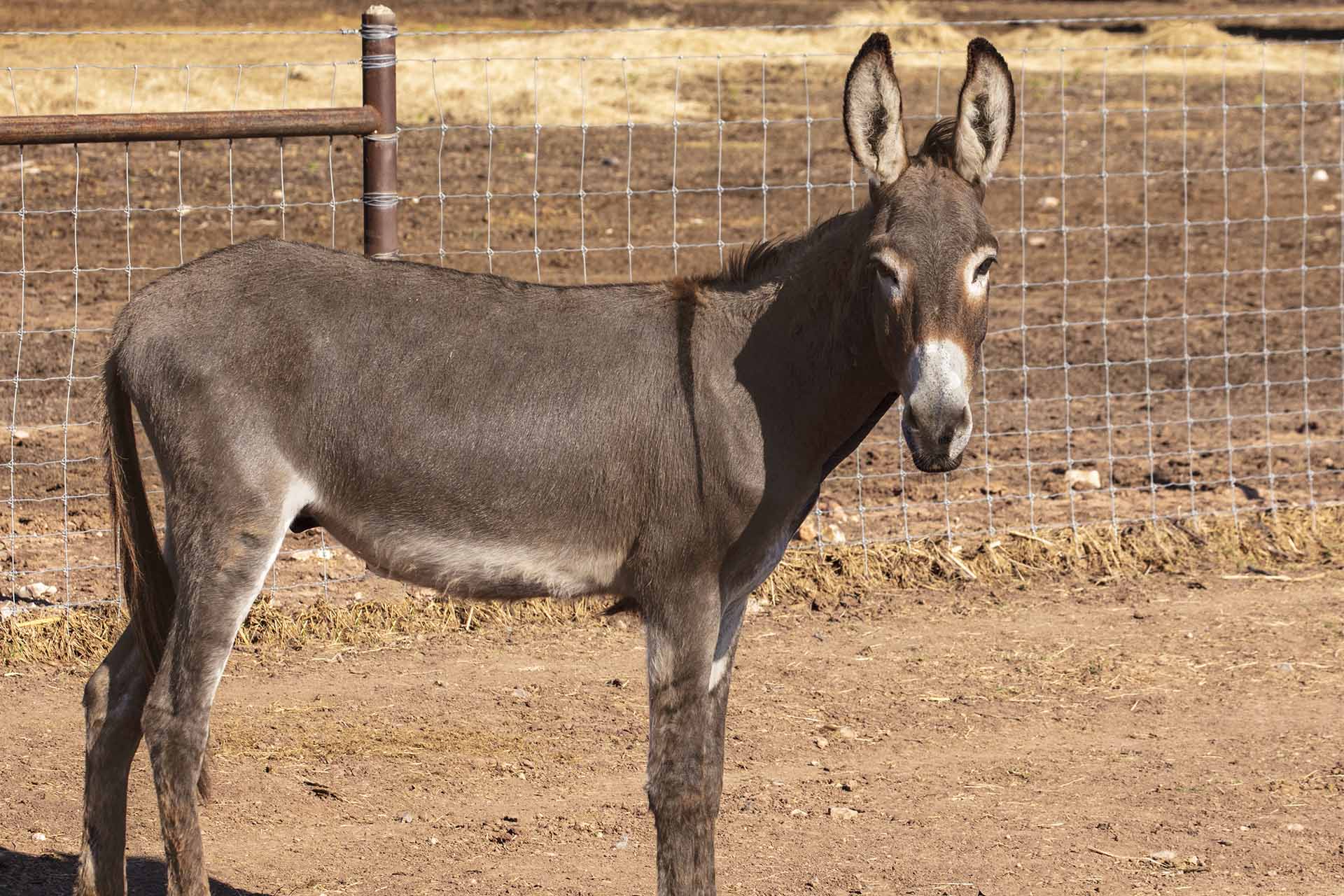 PVDR Rescue Case#: 12532189
Name: Maverick Age: 29 AVID#: 121-998-001
Maverick was picked up while crossing the Rio Grande from Mexico. There are hundreds of donkeys living all along our southern border, often times crossing back and forth between the two countries.
Maverick was heavily laden with both internal and external parasites, he had a respiratory infection and had ligament damage to a front leg from what looked like and old injury from wire getting wrapped around the leg.
Maverick spent two months in our medical bay when he arrived so that we could give him his antibiotics twice per day and treat his leg wound regularly.
He has since recovered and is living a healthy life with the rest of our senior community.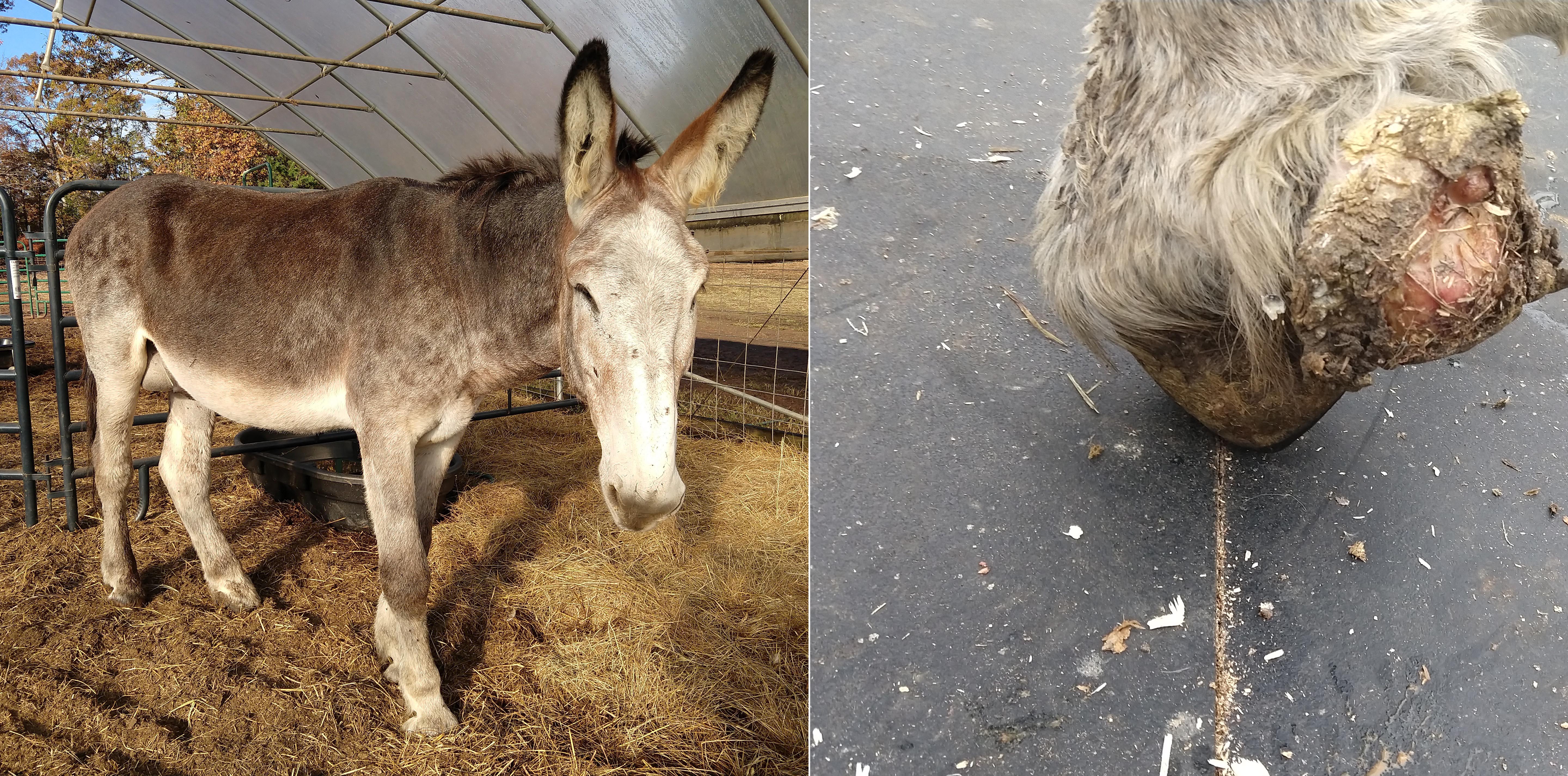 PVDR Rescue Case#: 39094659
Name: Mr. Walter Age: 25 AVID#: 977200009396400
Mr. Walter was a neglect case in central Florida. He is a very large Mammoth with an even bigger heart. This sweet boy was "adopted" by the elementary school children who attended school across from the field where he had been left alone. Luckily for him, parents and teachers advocated for him and got animal control and the media involved, which ultimately led him to PVDR.
Mr. Walter was in good body condition when we got him thanks to the good samaritans who had been feeding him for five years. However, chronic limping, lack of hoof care and a large growth on his hind leg, made them realize that Mr. Walter needed more than food.
Since arriving to our care, Mr. Walter has been gelded, had proper hoof care, and his feet are in the process of being treated for severe thrush. His teeth - which were some of the worst we've seen, are being attended to and his unusual growth is scheduled to be removed and treated to prevent regrowth.
He gets daily medical care, lots of attention, and will live the rest of his life with our herd of senior and special needs donkeys.