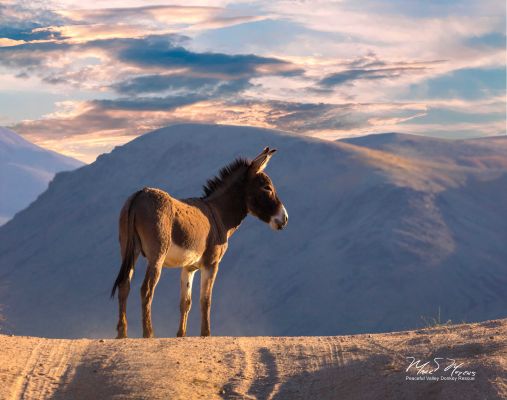 Donkeys crossed the Rio Grande into modern day Texas in 1598, 178 years before we signed the Declaration of Independence and 9 years before the founding of Jamestown, yet they are considered a non-native species. Donkeys were the frontrunners of the railroad construction, carrying explosives into areas where the larger animals could not go.
Following World War II, donkeys were replaced by cheap and widely available army surplus jeeps and trucks. Most of the working donkeys of Death Valley were also replaced and set free to fend for themselves. As a desert animal, the donkeys thrived. Death Valley offered them a perfect environment with little interaction with people.
Peaceful Valley Donkey Rescue has been tasked with removing all of the donkeys from Death Valley and surrounding areas. These living legends are the direct descendants of the Miners donkeys that worked gold, silver and talc mines. The National Park Service has a Zero Horse and Donkey Policy, therefore they all must go.
Our Death Valley Donkeys have been trained to pick up their hooves for trimming, walk on a lead and most importantly they are friendly and genuinely like people.
Please consider giving these incredible animals a new home since they were taken from the only home they knew.
As a PVDR Death Valley Donkey Adopter you will receive a 4x6 acrylic photo of "A New Dawn" (pictured above) to show off to your friends and maybe help convince them to adopt a living piece of history too.